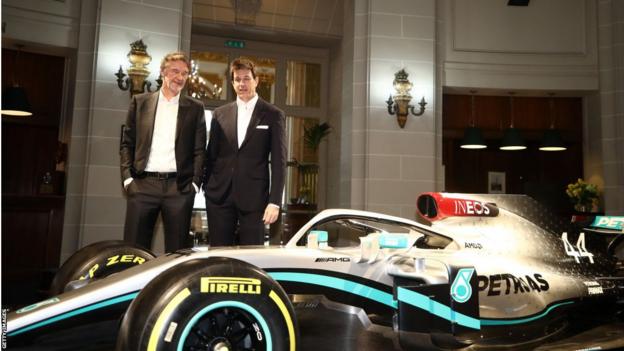 Mercedes Formula 1 boss Toto Wolff says he has spoken to Sir Jim Ratcliffe about joining his bid to buy a shareholding in Manchester United.
Ratcliffe has made an offer to buy 25% of the club from the Glazer family.
The founder of petrochemicals giant Ineos owns a third of Mercedes F1, with Wolff and Mercedes owning equal shares.
"Jim has shared the trajectory with me. I very much respect his values and we trust each other," Wolff told the Press Association.
However, he added in an interview with Sky Sports at the Sao Paulo Grand Prix that any investment was "very far away".
Ratcliffe's Ineos Group is aiming to secure a 25% stake in United but the deal is still to be completed. He wants to assume control of the football operations side of United.
Wolff made his fortune by investing in internet and technology companies before moving into motorsport, first with Germany's HWA, which has links with Mercedes, and the Williams F1 team before taking over at Mercedes F1 in 2013.
The 51-year-old Austrian added: "I have never aimed for trophy investments but I like the competitiveness of the Premier League.
"Jim and Manchester United is a love story because he is born there. Our personal relationship is strong and with Ola Kallenius (Mercedes-Benz chief executive), they call us the Three Amigos because we live in the no-nonsense world.
"If we felt I could contribute then I would consider joining him at Manchester United."