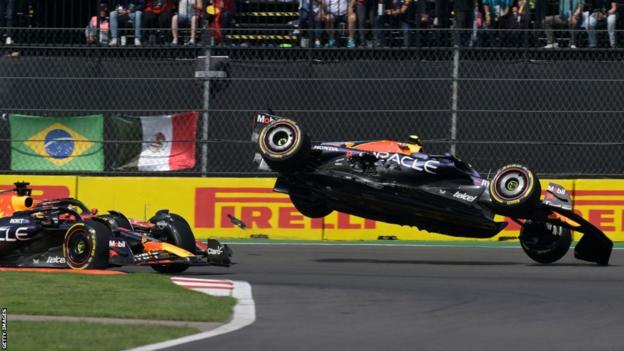 Max Verstappen says it is not up to him to help team-mate Sergio Perez try to secure second place in the drivers' championship this year.
Red Bull team principal Christian Horner has said he wants Perez to clinch the position because the team have never had a one-two in the championship before.
Perez is 20 points ahead of Mercedes driver Lewis Hamilton in third place.
Verstappen said: "It shouldn't always be on me to get the points."
Horner said after last weekend's Mexico City Grand Prix that Perez "will have the full support of the team to achieve something we have never done before".
Verstappen, speaking on media day for this weekend's Sao Paulo Grand Prix, added: "I am confident in Checo that he can stay ahead because on average we have the faster car."
Hamilton has narrowed Perez's lead by 13 points in the past three races in Qatar, USA and Mexico despite the Mercedes driver crashing out in Qatar and being disqualified from the US Grand Prix.
The question of whether Perez can hang on to second place in the championship has echoes of last season.
In 2022, Perez was trying to beat Ferrari's Charles Leclerc and in Brazil, with the Red Bull drivers running sixth and seventh, Verstappen refused a team order to let Perez by on the final lap to help him in his quest.
Verstappen refused to publicly say why he had done so, but it emerged that he was still angry about his belief that Perez had deliberately crashed in Monaco qualifying earlier in the year, preventing the Dutchman from improving his time.
Perez, who started third in Monaco with Verstappen fourth, went on to win the race after Ferrari made strategy errors with race leader Leclerc.
Verstappen said on Thursday: "Last year it wasn't really well spoken about before we got into the race weekend. Let's just hope we don't get into that situation; it is better for everyone."
Mercedes took their only win of the past two years in Brazil last year, when George Russell led Hamilton to a one-two on a rare off-weekend for Red Bull.
Hamilton had strong races in Austin, before his disqualification, and Mexico, but said: "After the last couple of races, you get messages from people saying: 'Oh, it's looking good.' And I'm like, 'Yeah, but it was looking good at this time last year, too, but we started this year 1.5 seconds behind.'
"I'm not dazzled by where we are currently. I am thinking quite long term at the moment. And then short-term just trying to solidify second in the constructors' (championship), because that is so important for everyone in the team. I anticipate Red Bull are going to blitz it but if that's not the case I will be ready to take the fight to them."
Mercedes lead Ferrari by 22 points with three races to go.