A fast food meal after a night out in 2017 changed the course of Lizzi Jordan's life forever, but has opened the door to new opportunities.
It left her in a coma and fighting for survival, and when she eventually woke, she was blind.
But after hitting what she describes as "rock bottom" Jordan, from Guildford, has set herself new challenges and is aiming to be part of the GB Para-cycling team at next year's Paris Paralympics.
"I was very, very poorly," she told BBC Sport. "I suffered multiple organ failure and doctors warned my parents on several occasions that I might not pull through.
"But thanks to use of a rare and expensive drug, they managed to get me out of the coma, but when I woke up I had totally lost my eyesight, which was terrifying.
"When I came home from hospital, I thought to myself 'how am I going to live my life without sight?'
"It's your window to the world and how you see and experience everything. I said 'I've got two options here. I can sit around and feel really sorry for myself, or I can try and make something out of my life and actually maybe achieve something I wouldn't have done even if I had sight."
Her determination saw her run the 2019 London Marathon, raising £15,000 for the RNIB charity, just months after learning to walk again, and that kick-started her desire to keep pushing her boundaries.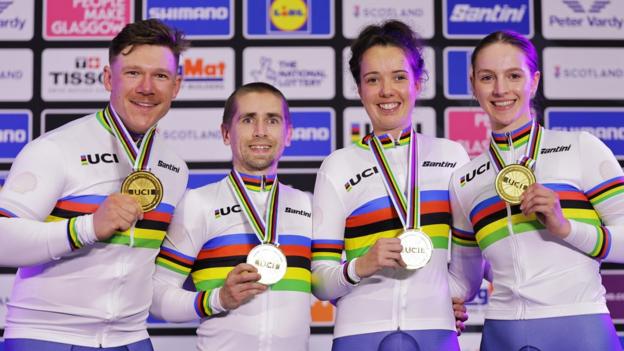 In 2020 she attended a British Cycling talent ID day and despite having barely ridden a bike before losing her sight, she impressed in testing.
It started a new journey which yielded gold at this year's World Championships in Glasgow in the mixed tandem sprint, as well as a tandem kilo bronze medal with pilot Amy Cole.
Coach Helen Scott, herself a Paralympic, World and Commonwealth champion as a sighted tandem pilot, says Jordan has huge potential.
"I was on the programme as an athlete for 15 years – she's better than I ever was after just three years," she says.
"She's one of my hardest-working athletes, is amazing to work with, tells me how it is, and that makes her a fantastic athlete as well.
"She wants to do her very best and she always does more."
Jordan is now navigating her new life and challenges on and off the bike, learning new things every day.
"I've got no meaningful sight so I'm totally reliant on someone to guide me, or using a white cane, which I've recently signed up to the training for, which will be life-changing for me," she says.
"It hit me really hard when I first lost my sight because I was a fiercely independent person and I wanted to maintain that.
"It took a bit of my pride away having to rely on someone or asking for help. But I've learned over the six years to accept it, and actually it's really helped me to be exposed to the Para-sport community because everybody has their struggles but we all encourage and support each other so you learn to be proud of your disability and proud of what you can do with it rather than what you can't do.
"I think I've become a much better person from my experience, more open-minded and more likely to take on new challenges and just try new things than when I could see, I might have thought 'I won't bother doing that, I don't need to take myself out of my comfort zone'.
"But now I've really learned to embrace that feeling of being uncomfortable when I'm out of my comfort zone and actually see what I can achieve from that."