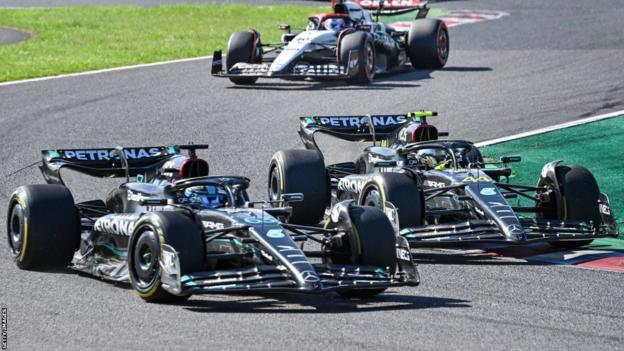 Lewis Hamilton says Mercedes' decision to use team work to fend off Carlos Sainz's Ferrari at the Japanese Grand Prix was "not a good idea at all".
The team responded to George Russell's suggestion to ask Hamilton to slow down to give his team-mate the DRS overtaking aid in the closing laps.
Hamilton did so, but said it was "more complicated" when it put Sainz on his tail after the Ferrari passed Russell.
"It made it very hard for me the last couple of laps," Hamilton said.
Russell's idea came from the previous race in Singapore, where Sainz was leading and deliberately kept Lando Norris' McLaren behind him within a second so he had the DRS overtaking aid.
This made Norris harder to overtake for the two Mercedes cars, who were attacking on fresher tyres in the closing laps.
Russell was on a one-stop strategy on fading tyres trying to maximise his finishing position with Hamilton and Sainz on fresher tyres with more grip after doing a two-stop race.
Mercedes are fighting with Ferrari for second in the constructors' championship, while Hamilton is disputing third in the drivers' title race with Aston Martin's Fernando Alonso. Russell is down in eighth place.
Hamilton said: "I didn't think that was a good idea at all. When they suggested it to me, I knew they'd thought of it from the last race.
"It made no sense, I needed to get as far ahead as possible and I was two seconds ahead and they asked me to come off the gas to give George DRS down the straight.
"Then he got DRS but then he got overtaken by [Sainz] which was gonna happen because he was on a one-stop.
"And then (Sainz) was right on my tail. Not ideal. It made it very hard for me the last couple of laps but a fifth and seventh is better than a sixth and seventh."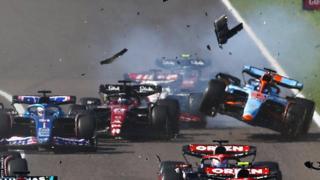 He said the team should have allowed him to pass Russell sooner.
"We should have swapped earlier and I should have got as far ahead as possible to keep the gap as big as possible," Hamilton said.
"If we had inverted, maybe George would have had a better time holding him behind but because he was trying to fight me and damaging his tyres.
"I think he made it more complicated. As drivers, it is not important where we are.
"What's important is one of us finishes ahead of the Ferraris. So today we should have worked as a team."
Russell had expressed irritation when Hamilton started to extend the gap but afterwards said: "You use the radio as a bit of a release valve because it is so hot in the car.
"It is a long race, pushing for an hour and half, fighting every inch. But for myself there are two goals – the main goal is finish P2 in the constructors'. The drivers' for me is out of the window totally.
"Lewis is in a good place to fight for a good position but the goal is to finish ahead of Ferrari and keep working for next year. No issues from my side."
The incident happened in the closing laps of a race in which Hamilton and Russell had raced hard wheel to wheel in the first stint in the race disputing position.
Russell passed Hamilton at the last corner before he was re-passed into Turn One, and a few laps later both went off track as Russell tried to overtake his team-mate again at Spoon Curve.
Russell again went on the radio to ask: "Who do we want to fight here? Each other or the others?"
Hamilton said: "We'll talk off line. It's the best way to do it. Ultimate goal is to try and get ahead of the Ferraris. And to beat them in the constructors' championship.
"We are not fighting for drivers' championship. It is about getting the maximum points for the team and I think that's what we did in the end."
Hamilton said: "I was definitely aggressive but it was good racing."
Russell said: "I viewed it as good, hard racing. The fact we were in the position to put him under pressure I was happy with.
"The pace my side was really strong considering how hard the car has been this weekend. It was hard, fair racing. We lost a bit of overall time fighting and you are a bit frustrated on the radio but that is just part of racing."