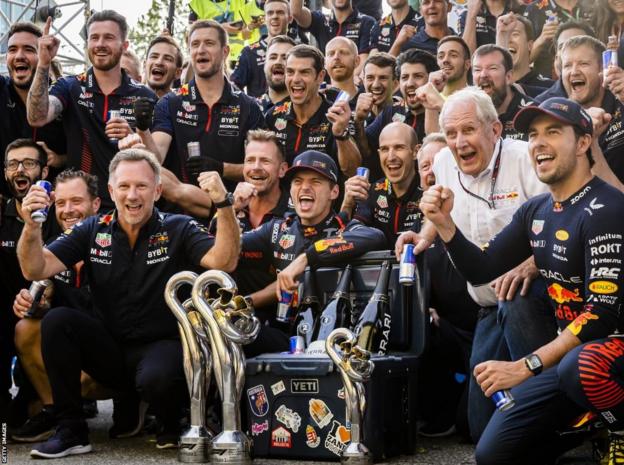 Mercedes team principal Toto Wolff says Red Bull driver Max Verstappen's all-time record of 10 consecutive wins is "completely irrelevant".
Verstappen's victory at Monza on Sunday means he surpassed his Red Bull predecessor Sebastian Vettel's run of nine straight victories in 2013, and accomplished something Mercedes did not during their period of domination between 2014 and 2020.
Wolff said: "For me, these kinds of records are completely irrelevant. They were irrelevant in our good days at Mercedes.
"I don't know how many races we won in a row. [I] didn't even know there was a count."
However, Wolff did admit that Verstappen's success "shows a great driver in a great car competing at an extremely high level".
In a second answer on Verstappen he added: "By the way, that record, I would think it's a good one, because it's perfection."
And he said that he expected Red Bull to go on to win every race this season, barring an error.
"I think they need to screw it up themselves in order not to win [every race] this season," Wolff said.
Ferrari team principal Frederic Vasseur said: "They always had mega pace – from Monza to Monaco, they were performing and this is impressive. But the most impressive for me is that Max – it's not just about the last 10 races, it's about the last two years – I would say he didn't make a single mistake in the races.
"It's easier to not make mistakes when you have a margin on the others, but even in these kind of circumstances he is able to manage a situation very well.
"To not do a single mistake over two seasons is just mega."
Red Bull team principal Christian Horner said: "You have to recognise and applaud what Max is doing at the moment. It's very special. We shouldn't detract from that in any way.
"In sport, very rarely things like this happen and it's a golden moment for him and certainly a golden moment for the team."
There have been questions within F1 as to whether governing body the FIA should legislate to try to halt Red Bull's domination, as they did at the end of 2020 when a rule change for the 2021 season affected Mercedes more than other teams and led to a ferocious title battle between Verstappen and Mercedes' Lewis Hamilton, with the Dutchman eventually coming out on top after winning the controversial season finale at Abu Dhabi.
But Wolf said: "If a team dominates in the way Max has done with Red Bull, then fair dues. This is a meritocracy.
"As long as you comply with the regulations – technical, sporting and financial – we just need to say, well done. And if it takes a long time [to catch up], then it takes a long time.
"I remember people crying foul when it was us. Entertainment follows sport, not the other way around. You can't be WWE [wrestling] – we don't want to be scripted content."