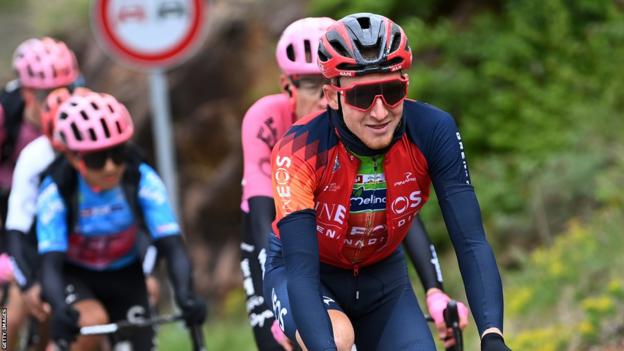 Tao Geoghegan Hart knows more than most how unpredictable the Giro d'Italia can be.
When this year's race begins on Saturday, it will be the first time Geoghegan Hart has been on the Giro start line since.
Once again, the 28-year-old Londoner might not be the out-and-out favourite – but he has every reason to feel confident.
His four victories in 2023 make him Ineos Grenadiers' most successful rider so far this year, with three of those coming at the recent Tour of the Alps – a known Giro warm-up.
And with the lead changing hands during the final three stages of five of the past seven editions of the Giro, this is a race where anything really can happen.
"We've got a super tight-knit group, it's a really, really strong team going in," Geoghegan Hart told BBC Sport.
"Ultimately a team to some extent is only as strong as its leader but we have a few very strong cards to play.
"I don't think that there's any illusion that we're going in with the pre-race favourite.
"The Giro d'Italia of all the Grand Tours is the one with a little more mystique, the one which is a little bit less quantifiable and the one that in recent years you often see some big shake-ups in the last week.
"I think personally I need to be patient and I need to bide my time and see how the race unfolds."
Bouncing back from 'worrying' health concerns
Geoghegan Hart has had a testing couple of years, hampered by illness and injury since the Giro win that thrust him into the Grand Tour spotlight.
He suffered concussion at Paris-Nice which all but ruined his spring campaign in 2021 and he was forced to play catch-up from there on.
Then during his first race of 2022 Geoghegan Hart caught Covid-19 for the first time and struggled for months afterwards, picking up illness after illness and missing both the Giro and Tour de France.
"Last year was pretty worrying for a few moments in the spring with my health and wondering if there was a much deeper problem in terms of how susceptible I was to illness and how long it was taking to shake it," Geoghegan Hart said.
"I think for me that was tough to take because I've always been someone who was the opposite and didn't get ill and was very robust."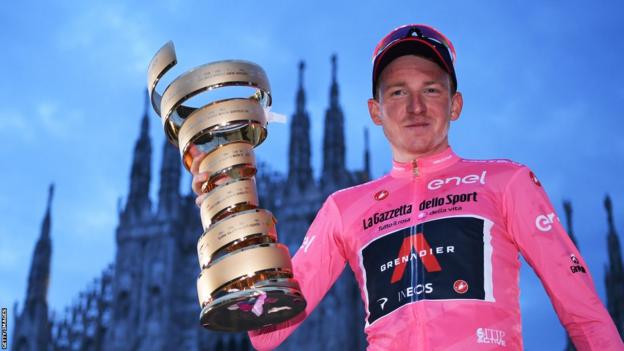 He took the entire winter off, with no travelling and no holidays, to make sure he fully recovered.
When he finally got back on the bike things started falling into place and Geoghegan Hart won at his first race of the year, claiming stage four of the Volta a la Comunitat Valenciana.
Sixth at Ruta del Sol was followed by third overall at Tirreno-Adriatico before his success at the Tour of the Alps.
"It doesn't feel like I'm starting from zero around every corner and that makes a massive difference," he said.
"Especially an athlete like myself that does a lot of volume and requires a certain type of training that makes it even more different, that consistency."
The Briton also changed his coach during the winter and altered his approach to training, which he believes has had a positive effect.
"I always approached the season more conservatively and looked to build through the season in my past years as a professional," he said.
"This winter I decided to be a little bit more aggressive because I think the way the sport is moving it's very hard to build condition once the season starts.
"The races are so hard you need a lot of recovery after each race and I think if you're not on a certain level when you start racing you actually need to take a step out of the race environment to find those big steps.
"That was a goal of mine really to not be too far from my best already to start the season."
'A race of attrition'
Every edition of the Giro d'Italia seems to be the toughest ever, but this year's route is particularly brutal.
The 76km of time trialling is the most since the 2017 edition while the final week features three mountainous stages with almost 5,000m of climbing on each.
Rather than appearing daunted, Geoghegan Hart is relishing the challenge.
"It is going to be one of those races where on the first rest day people are going to think perhaps they know who is the podium and who are the strongest and all the rest of it, but I think in the last week there are going to be some big changes," he said.
"We always say it's such a hard Giro and a race of attrition but certainly this year, we're definitely going to hear a lot of that.
"That excites me. I think I'm someone who, all being well, performs very well under a lot of fatigue. It remains to be seen but I'm looking forward to it."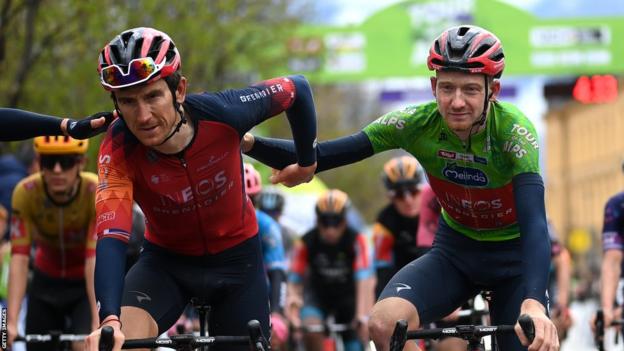 Geoghegan Hart will be one of two protected leaders at Ineos along with former Tour de France champion Thomas.
While there has been plenty of talk about the duel between current world champion Remco Evenepoel of Soudal-Quick Step and Jumbo-Visma's three-time Vuelta a Espana winner Primoz Roglic, Geoghegan Hart thinks Ineos have collective strength in their favour.
"It's been a big investment from the team in this Giro group. We did a really good camp together in January and another one just now," he said.
"We've reaped the benefits of that investment from the team in the Alps and hopefully also in the coming weeks."
For a team as big as Ineos and a rider like Geoghegan Hart who has won the Giro before, riding into Rome wearing pink as the race winner is the aim.
"The ambition has to be to try," Geoghegan Hart said. "A three-week race is really long and you can sit before it and say anything you want but in the end it's a big adventure.
"You just wake up each day, take that stage as it comes and look forward to Rome – always."