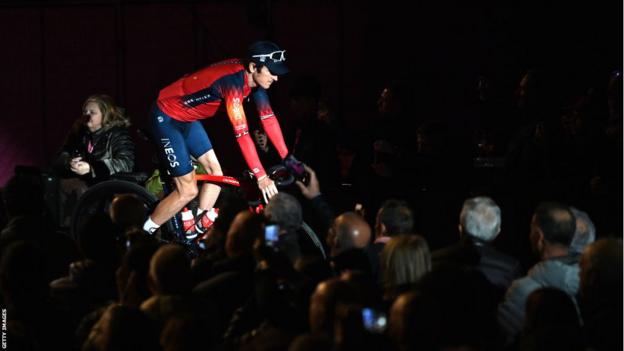 Eddy Merckx, the great Belgian rider, once said to be a champion cyclist was not just about ability but possessing a "talent for suffering".
Geraint Thomas has certainly had his fair share of pain and misfortune, especially at the Giro d'Italia.
There is unfinished business for the Welshman in this particular Grand Tour after freak accidents in 2017 and 2020.
And the former Tour de France winner insists he lines up for Saturday's Grande Partenza as "a contender".
Merckx, the greatest of all Grand Tour riders, also said the day he started a race without intending to win it was the day he could no longer look at himself in the mirror. He was 29 when he won the last of those 11 titles.
That day has not yet arrived for Thomas who, despite being 20 days from his 37th birthday, still has his sights set through those distinctive sunglasses at the "pointy-end" of the race.
"I feel I'm a contender. From training and the recent Tour des Alps, power-wise the numbers are looking good," he said.
"The weight is always an issue for me and the Giro is early this year but it's all about getting stuck in.
"It's been a frustrating year so far after a bacterial infection that hasn't really left. But I'm coming into good shape and hopefully I'll be at my strongest come the final week."
Nevertheless, a rueful smile breaks out when asked about his history with the Giro.
"I was in great shape in 2017 when, of all things, a police motorbike caused the crash that ended my race," said Thomas.
"Then in 2020 a water bottle bounced out of someone's cage in the neutral zone – not even the main race – which took me out and I fractured my pelvis.
"So yeah, it feels like third time lucky this year. I'm not putting loads of pressure on myself but I've done everything I can to get here in good shape.
"To make it to Rome would be a good start but hopefully I can be as competitive as possible and be right up there come that final week."
Baring accidents, the 106th edition of the Giro looks set to be won and lost in that final week, which includes three mountainous stages with almost 5,000m of climbing on each.
It also includes a mountain time trial, one of three time trials, rarely seen in modern Grand Tours but which could suit Thomas, twice an Olympic team pursuit gold medallist.
'Crazy' Giro
However, Thomas – despite his mixed fortunes – also revels in the chaos of the Giro.
"It's a great race. It's less controlled than the Tour de France. It reminds me of racing the classics, you ride on instinct," he said.
"It's so unpredictable. A lot of crazy things have happened like when Froomy [Chris Froome] won from two minutes down to win in the last week. [Vincenzo] Nibali did something similar and other guys have exploded when looking as if they would win. And then you've got the weather. So yeah, I love it."
Returning to the Giro has helped fuel Thomas' motivation in his 17th year as a pro cyclist.
While Gareth Bale and Sam Warburton, the other members of the golden trio from the same Cardiff high school, have both retired, Thomas is not only still ploughing on but has begun talks with Ineos Grenadiers over extending his current contract beyond 2023.
"If you keep doing the same thing just because something worked in 2018 when I won the Tour, you become stale. The sport has moved on," said Thomas.
"But the most important thing is still having that love for riding, for racing and competing. The frustration of this year with the infection has reminded me how much I still love that."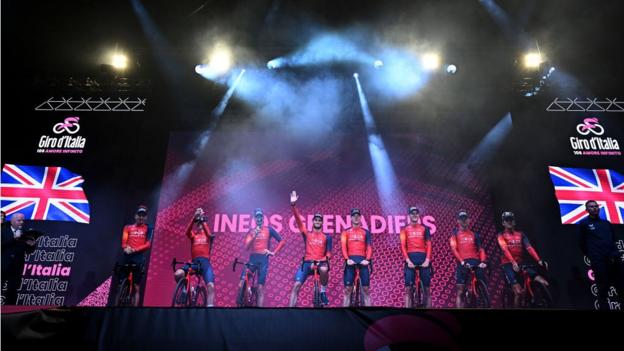 All eyes will be on the duel between current world champion Remco Evenepoel of Soudal-Quick Step and Jumbo-Visma's three-time Vuelta a Espana winner Primoz Roglic.
However, Thomas believes his dual leadership role of Team Ineos with former Giro winner Tao Geoghegan Hart can threaten the general classification race.
"Remco and Roglic are two hot favourites with strong teams but there's about four or five riders under them who can look at the podium and stage wins," said Thomas.
"But our team is in good shape after the Tour des Alps and having the two of us as leaders could be a real advantage if we work together.
"Tao has a great chance, he's won this before and is also going as well as ever."