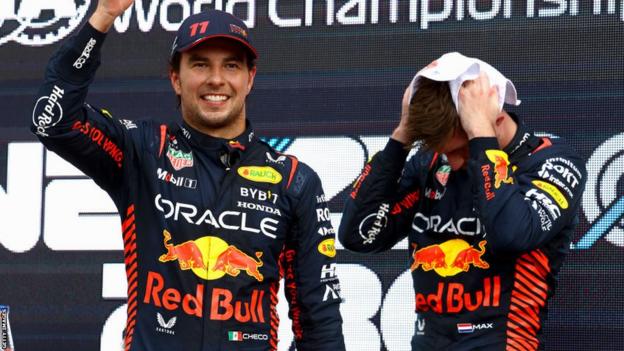 Sergio Perez says he will have to be "perfect" if he is to have a chance of beating Red Bull team-mate Max Verstappen to the title this year.
Perez is six points behind Verstappen heading into this weekend's Miami Grand Prix and each has two wins.
Perez said: "The only chance I have to beat Max is by perfect and being able to deliver when it matters."
He said battling for the title was "a massive enjoyment – it's what you have been working your whole life for".
Verstappen is Red Bull's number one driver, earns many times more than Perez and has a contract until 2028 rather than 2024.
But Red Bull have said the two are free to race as long as they put the team's interests first and the Mexican said he was confident that the team would give him the backing he needed to challenge Verstappen.
"I do believe that the team will give me as much support as they do with Max and what they have been doing since the start of the season," Perez said.
"In that regard, we have to appreciate that a lot from Red Bull. It would be very easy to implement orders from lap 20 and [say] look after the cars and make sure we have reliable cars.
"But in Jeddah and Baku we pushed flat out throughout the race and in Baku we each hit the wall a few times because we were so on the limit. It could easily [cause] damage and we could easily have a problem."
There was tension between the two drivers last year when Verstappen came to believe that Perez had crashed deliberately on his final lap in qualifying in Monaco to prevent his team-mate having a chance of beating him.
But Perez insisted: "The level of respect between Max and myself and the engineers is pretty high, although people might think differently. I am sure the team feels super-confident to let us race as hard as we have been doing."
Last year, Verstappen set a new record of 15 victories in a season to win his second title, while Perez won only two.
Perez said he had worked hard over the winter to understand how to get the best out of the Red Bull car.
"I'm mentally very strong and that's my biggest strength and has always been," he said.
"It is not easy being Max's team-mate because he is delivering all the time and he is winning all the time and we have seen it in the past. It is not easy for a team-mate to survive.
"I believe in myself but I had to go very deep into understanding of the car and making sure I put the right tools in place to be able to fight."
Perez's two wins in 2022 were both on street circuits, in Monaco and Singapore, and the same is true of his victories this season in Jeddah and Baku.
Perez has a reputation for being strong on street circuits and last weekend his team principal Christian Horner said he "just needs to get going on the proper circuits".
And Verstappen has implied that he believes he will grow stronger as the season progresses and the sport returns to its more traditional tracks.
"Some tracks probably suit you a bit better and probably for Checo his driving style and the way he likes the car probably suits a bit better to street circuits," Verstappen said.
"I personally don't really enjoy street circuits so probably there is also something in that. I prefer more fast corners but that's how it goes. You have a few street circuits on the calendar, a few normal tracks as well."
But Perez said he believed he would be able to carry forward his form at all races this year.
"The reason I am strong on these circuits is because I am able to play with the car much more than I used to," he said. 'So I see no reason when we go to different circuits [for it not to be] the same way as I've been doing."