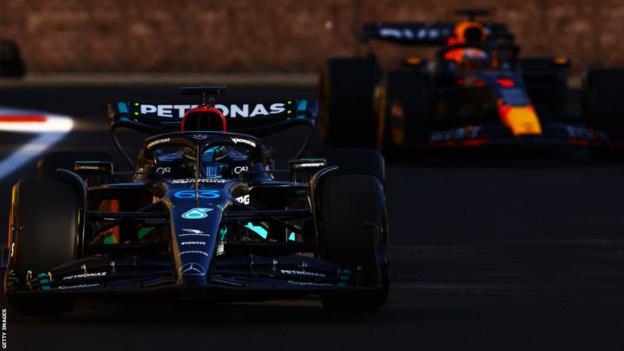 George Russell says his spat with Max Verstappen after they collided at last weekend's Azerbaijan Grand Prix sprint race was "all a little bit pathetic".
Verstappen swore at Russell as they argued in the pits after the incident.
"He has had his fair share of giving moves like that and being tough and hard at racing," Russell said on Thursday at the Miami Grand Prix.
"It's a little bit poor to see how he spat his dummy out when he got something back in the same regard."
The Mercedes driver added: "Something you learn as a kid is if you give something you've got to be prepared to take it as well."
Red Bull's Verstappen said on Thursday that relations between the two drivers were "absolutely fine".
Russell added: "I thought it was good racing and it was the only thing that happened that weekend, it was pretty boring otherwise. We will have a chat, everything's fine."
The incident happened on the opening lap of the sprint race in Baku.
Russell was trying to overtake Verstappen's Red Bull on the inside at Turn Two but the world champion tried to hold position around the outside.
The pair collided, damaging Verstappen's sidepod and preventing him challenging team-mate Sergio Perez for victory. The stewards did not investigate the clash, considering it a racing incident.
Verstappen accused Russell of lacking "common sense" because he knew that he would be passed sooner or later, such is the Red Bull's performance advantage.
Russell said that Verstappen had used the F-word a number of times during their heated discussion. The Red Bull driver also insulted the Briton as he walked away.
Russell responded: "I am not just going to wave him by because he's Max Verstappen in a Red Bull. I am here to fight and win.
"I was very surprised by how angry he was."